HOW THE APPLICATION PROCESS WORKS AT F/LIST
The People & Culture Team
We are here for you. We are happy to answer questions even before you apply. F/LIST is a versatile company. It thrives on people with a wide range of skills and talents. The team in Thomasberg will help you if you want to know more about applying to F/LIST. We also answer frequently asked questions right here on this page. In addition to the team in Thomasberg, F/LIST has contact persons for job seekers all over the world. You can find the direct contacts via the locations page.
Your applicationprocess for a job
1. Application
We have a separate online application form for each position which you can use to easily contact us and upload your resume. If you are interested in a job, but do not have your application documents ready, please call us – we will find a solution.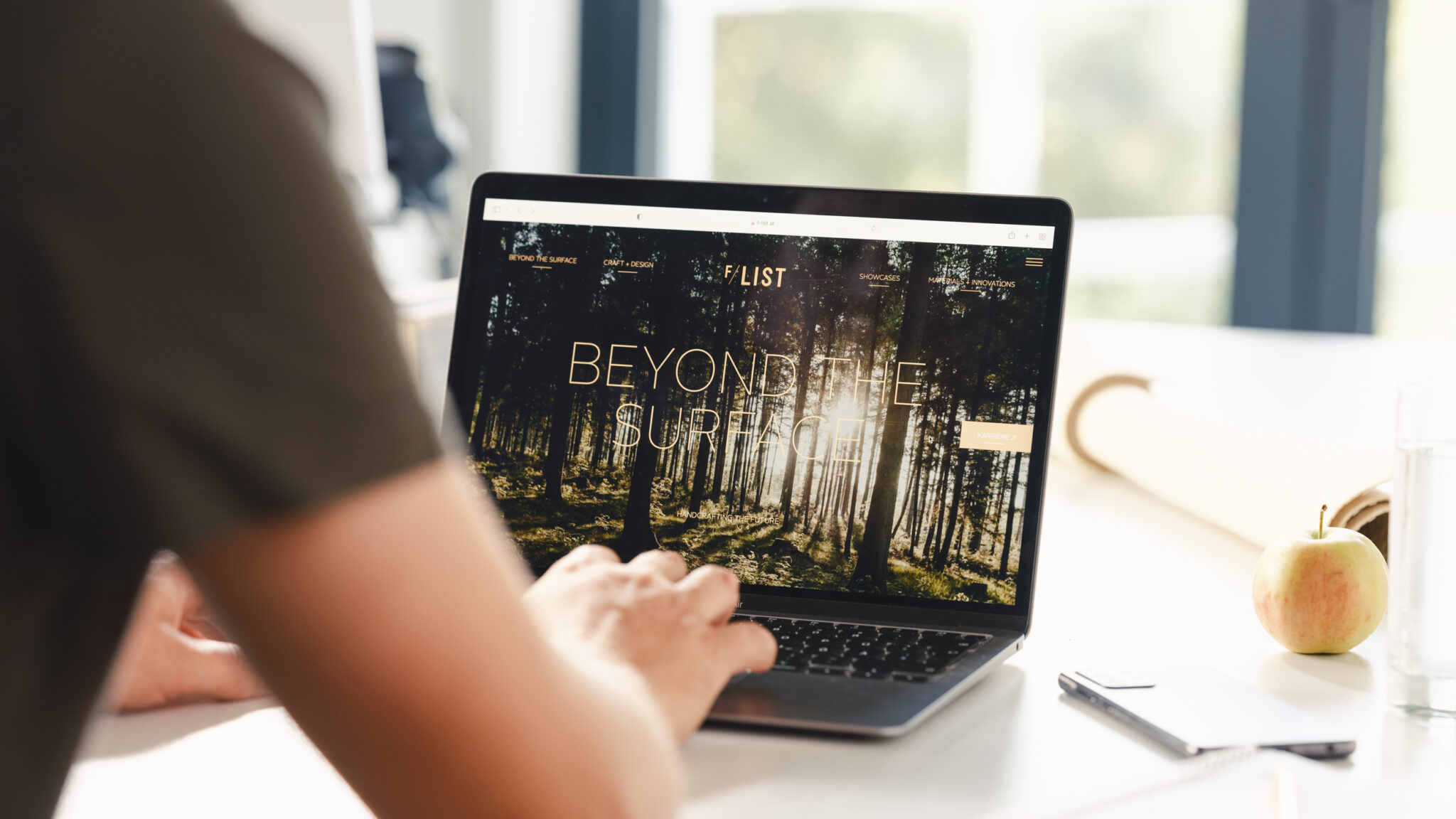 2. Interview
Talking brings people together, as the saying goes. We are happy to take the time for a job interview – depending on the job and location, we can get to know each other in person or online. In any case, this first meeting is extremely important for our decision. The responsible manager, someone from the people & culture team or from the management team will be there. Here you can ask us all the questions that interest you. Depending on the position, we organize a second meeting so that you can learn more about the position as well as the company.
3. Decision
If you have successfully completed the application process, you will receive a notification from us. In the event that the decision is made in favor of another applicant, you will of course also receive feedback as soon as possible.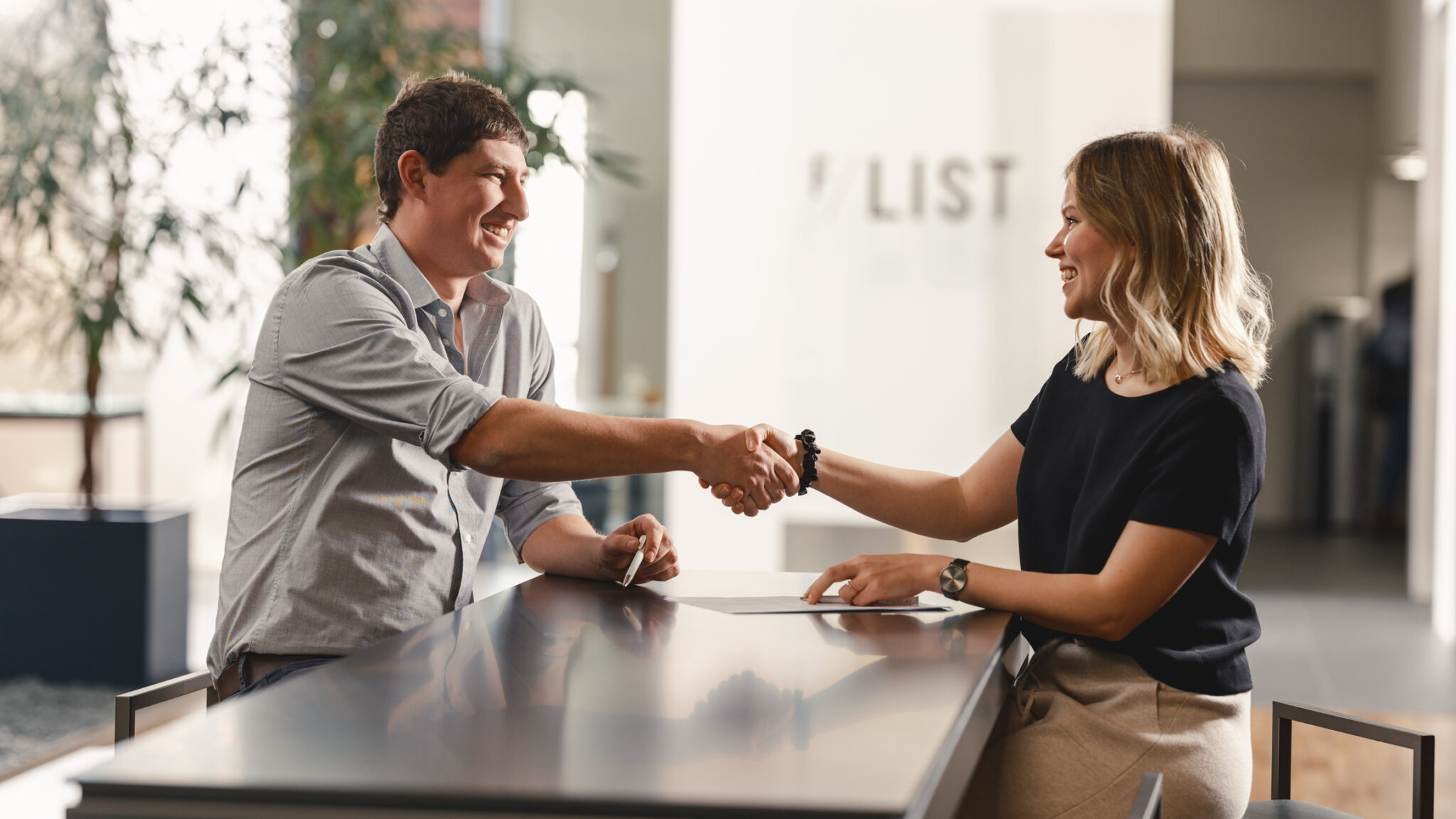 YOUR APPLICATION PROCESS FOR AN APPRENTICESHIPApplication
1. Application
Of course, school grades are important. However, we at F/LIST are primarily interested in your motivation and talent for a professional future. And this is how it works: The best way to apply is online via our application form. You can apply for trial days or directly for an apprenticeship or training position if you already know exactly what you want to do.
2. Trial days & knowledge check
Get to know our apprenticeships on site and form your own opinion about your future apprenticeship. During the trial days, you will be in the midst of the action for a day or a few days to experience the actual work process. In addition, you will be given small sample pieces to work on so that you can develop a feel for the materials. It is also important that you get to know the team and your colleagues – this is how you find out whether you feel comfortable in the company. During the knowledge check, we will determine together where your strengths lie. Don't worry, you don't have to prepare for it!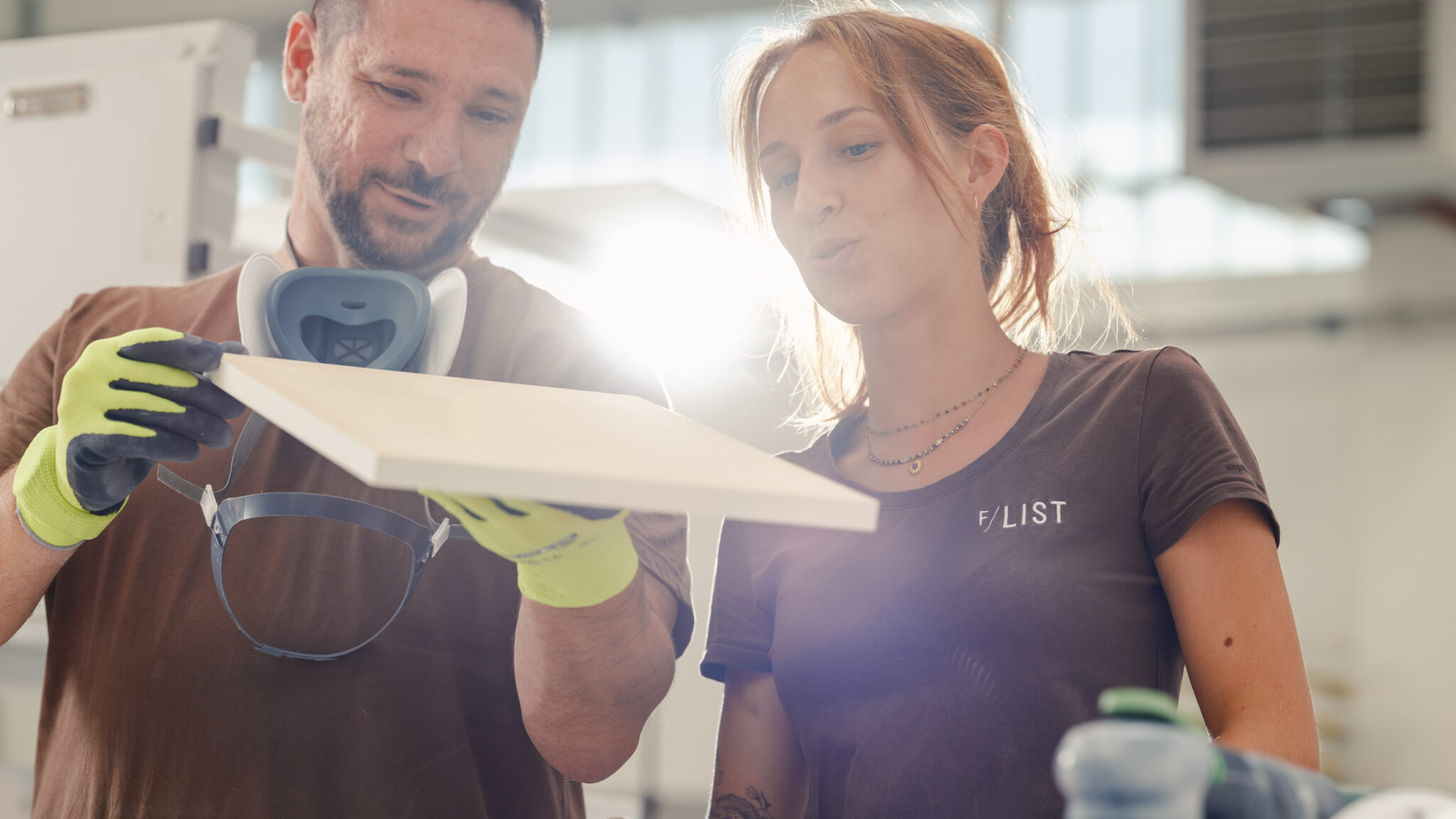 3. Feedback
Soon after you have come to know us better, we ask you to let us know whether you definitely want to apply for an apprenticeship at F/LIST. Once we receive this information, your application will move on to the selection process.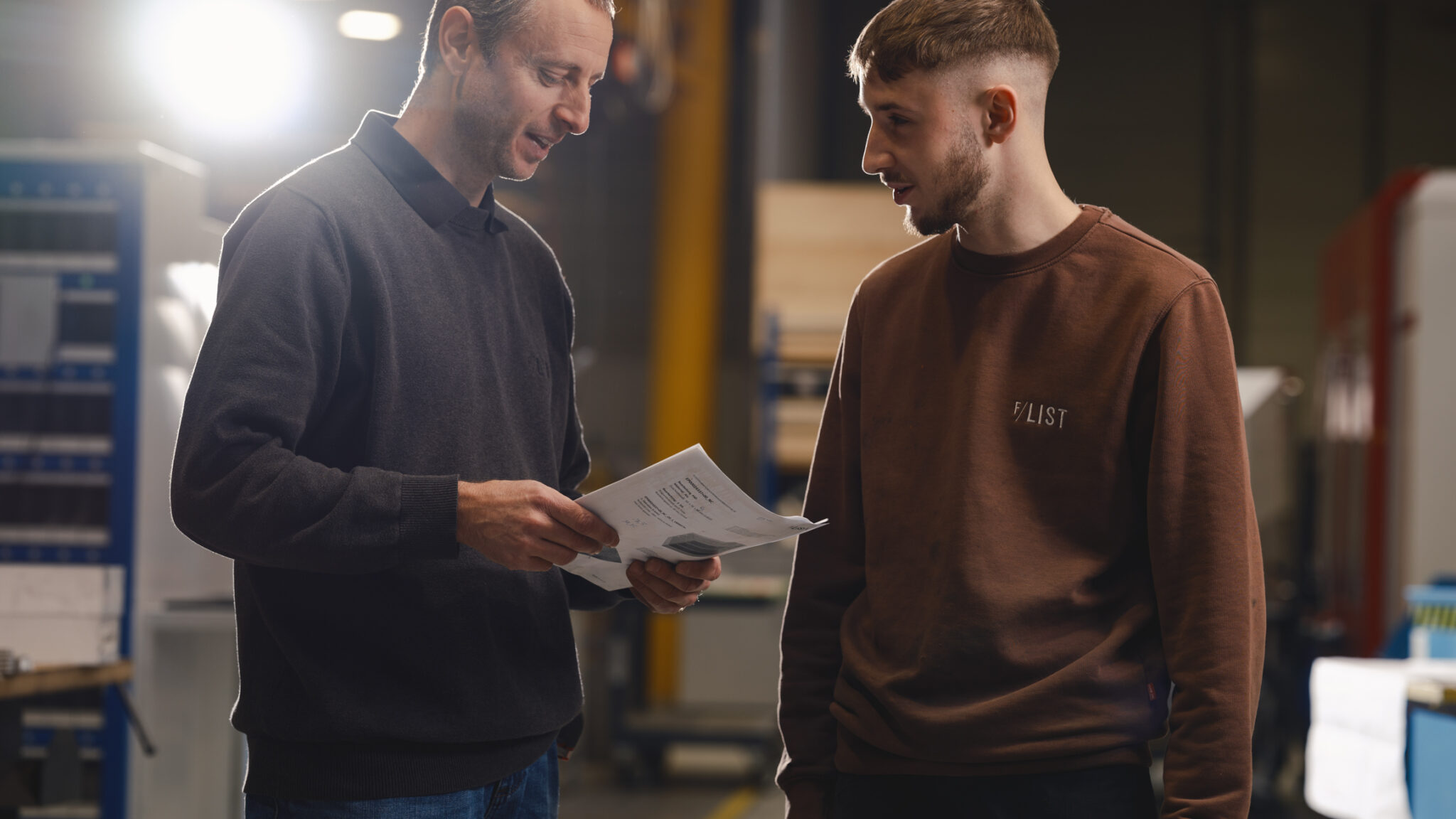 4. Decision
Decisions about the apprenticeships or training positions will be made as soon as possible. The apprenticeship starts in Austria in August and in Germany in September.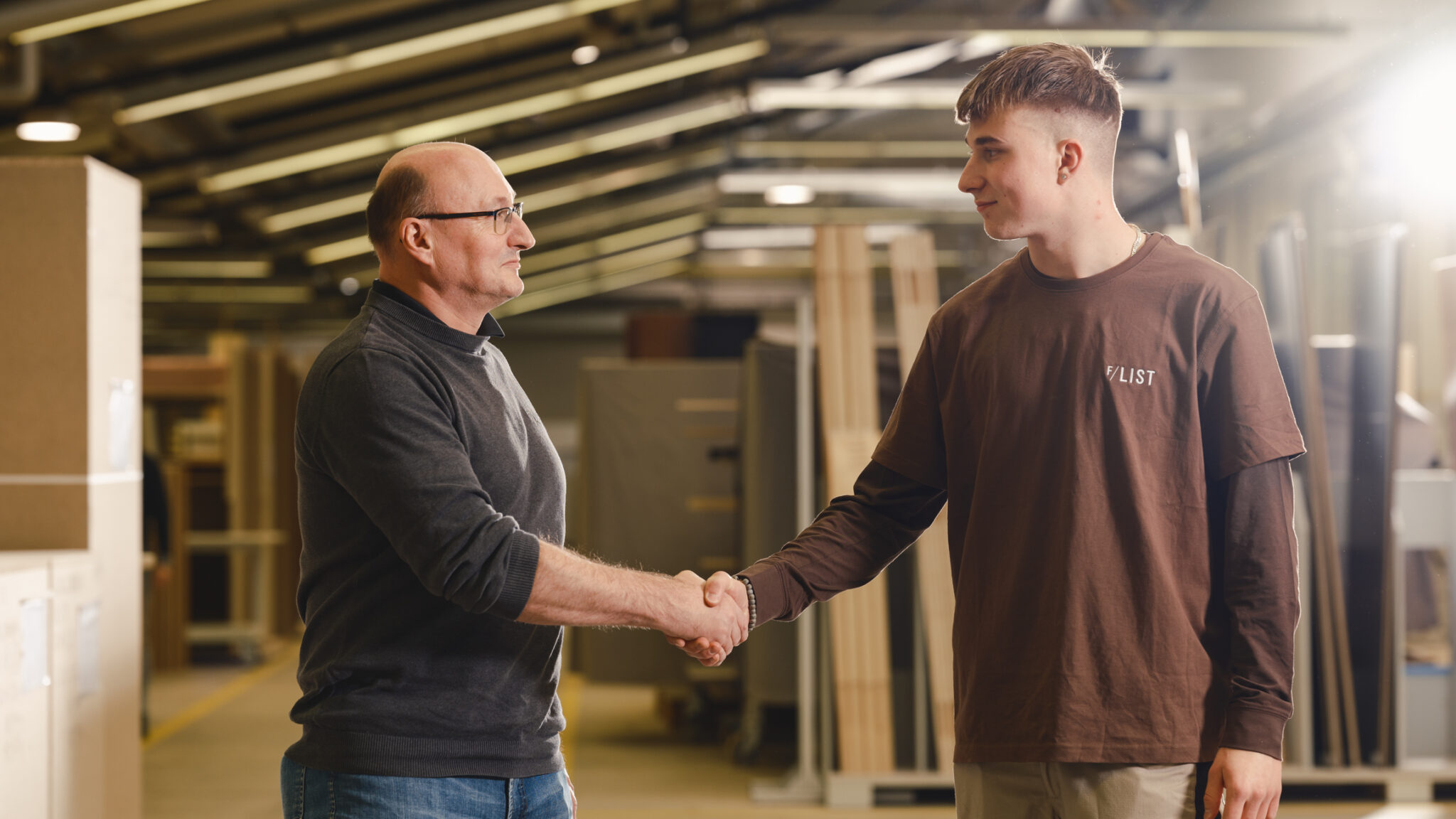 Frequently asked questions / FAQ
Is there a dress code for the interview?
We don't expect you to be overly dressed up, nor in your pajamas. You will certainly find a reasonable middle ground – and an outfit you feel comfortable in.
Do you have any tips for the interview?
Just be yourself. We want to know who you are, where your strengths lie, and what you're passionate about. Together, we'll find out if we have a job that fits your skills and personality.
How can I apply?
Here you can find all our open positions. Simply click on the job of interest to you and apply online right away. If you don't have a resume to upload, feel free to call us and we'll find a way for you to apply. If there is no suitable position advertised, you can still send us an unsolicited application at any time!
What questions are asked in the interview?
We want to get to know you professionally and personally. We ask questions about your past jobs, your training and what you enjoy about your work. It is also important that you ask us all the questions that interest you. During the interview, we will also clarify various general conditions such as working hours and benefits at F/LIST.
Who do I contact if I have further questions?
If you have any questions about your application that are not answered here, please feel free to call. You can find the right contact under Locations or send an e-mail to jobs@f-list.at.
How does the Interview take place?
Depending on what is possible due to time or location, the first interview will take place either online or in person. In any case, getting to know each other in person is very important to us, so that both you and we can get a feeling for whether you are comfortable with us.
Will F/LIST cover my travel expenses for the interview?
Unfortunately, we cannot cover any travel expenses that you may incur as a result of your application. However, we will organize online interviews for you to get to know us.
Do I have to complete trial days in order to get an apprenticeship or training position?
Yes, this is very important to us. This is the only way to find out whether F/LIST is the right company for you. And we can also get to know you better. The trial days are a fixed part of the selection process.
When will I receive feedback on my application?
We make every effort to give you feedback on your application as quickly as possible. Normally, it takes a maximum of two weeks. In the case of an application for an apprenticeship or training position, the decision will be made as quickly as possible.
Can I gain international experience?
Since we have F/LIST locations all over the world, we have many opportunities for our employees to work internationally. If there is a demand in the respective country and all legal issues such as visas have been clarified, nothing will stand in your way. We have several employees who have already gained experience at different locations.
How do I know that my application has been successfully
received?
If you apply online using our online form, you will receive an automatic confirmation of receipt by e-mail.